Have you ever been??  I went for the first time this weekend and it was pure delight.
I'm sort of kicking myself for not taking more pictures because this sweet little town was worthy of a lengthy photo shoot.  Every store sign was distressed and vintage in character.  Even the local firetrucks had the town name hand painted on them.  If we were able to spend the night I definitely would have stayed at Camp Wandawega.  So much history in this little town.  I love rural America.  I guess all the more reason to return, right?!
The main reason for my visit was to visit the ever-so-famous Elkhorn Flea Market which is the mecca of all flea markets in the midwest.  There was no junk to be seen…only fantastic treasures to be found.  Here are a few iphone photos from the day.  Actually, my intention was to shoot beautiful photos of all the fantastic stuff I saw throughout the day, but when it came time to leave, i realized I hadn't taken any photos, so these were taken in the car, while my husband drove.  Still a great example of how fantastic the Elkhorn Flea Market is.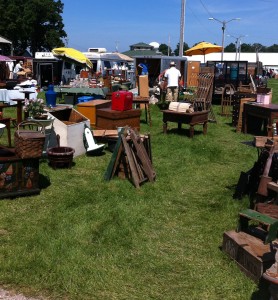 See that cute yellow vintage outdoor set?  That actually came home with us and is sitting on my back patio right now.  And I must say it's looking mighty swell in all of its vintage yellow glory.
Cheers to a vintage life well lived!
Jessica and Julie