Aren't you excited, cause we sure are! We're giving away this cute basket of goodies, so if you're interested in entering the giveaway, read the specifics below.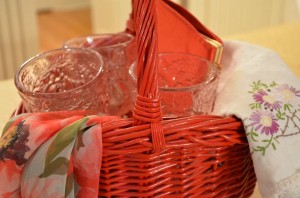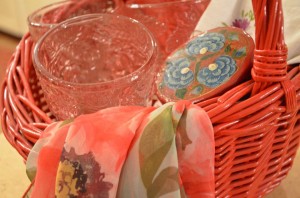 Isn't it cute. The winner will receive a cute red basket filled with 3 pink pressed glass goblets, a red purse, small painted floral box, pretty scarf and table runner with needlepoint details.
So, all you have to do to enter is go to our facebook page, "like" us, and then write the word "LOVE" on our wall by January 29th. Seriously, that's it. Easy peasy. Please feel free to spread the word to anyone you think might be interested. We will draw a name on Monday January 30th and notify the winner via facebook. The winner can then come pick-up their prize next Thursday, Friday or Saturday. But of course if those dates don't work we can always arrange another time. Sorry, but due to the high price of shipping, this contest is for local pick-up only.
But don't fret if you don't win. We will be having contests like this on a regular basis. We're not exactly sure what "regular" means, but we're hoping it means we'll be doing this monthly.
Cheers to a vintage life well lived.
Jessica and Julie